By Sam Gelberd, ANA Education Instructor
About the Design
The 1933 Indian Head $10 Gold Eagle is one of the most coveted coins in the numismatic universe. It is the only United States gold coin bearing this date that anyone can legally, privately own aside from just ONE double eagle. With an original mintage of 312,500 there are only about 3-4 dozen examples known today, almost all of which are in average mint state condition, with just a few gems. These survivors were purchased directly from the mint early in the year and never had a chance to circulate widely due to FDR's Executive Order #6260 shortly after their release. (The entire production run was coined before this gold recall order was issued. All of the remaining 1933 eagles were melted into ingots and became part of our reserve bullion supply.) A mini-hoard of less than 30 examples was discovered around 1952 on the east coast and a few more pieces have since been discovered in European vaults, hence its status as the rarest date in the series. Many collectors are familiar with the stories surrounding the twenty-dollar double eagles of the same date, yet "unlike the 1933 Saint-Gaudens Double Eagle, the legal ownership of the 1933 Indian Eagle has never been in question." (Akers, pg. 206) Albeit legal to own, it is a prohibitively rare 'stopper' for the set builders. Some examples have traded hands a few times in auctions over the years, always for six figures each Nearly all specimens of this date are well struck, with the exception of some weakness on the numeral "1" in the date and the hair just underneath the "BER" in Liberty. "The reverse is always seen with good detail although the breast feathers are not fully defined." (Fuljenz, pg. 235) Many of these will exhibit hits or bagmarks in focal areas, as well as some copper spotting. They display average luster and frosty surfaces, accompanied by the medium-orange coloration typical of U.S. gold coinage for the period, with hints of rose and green shading. The overall eye appeal is often above average for $10 Indians.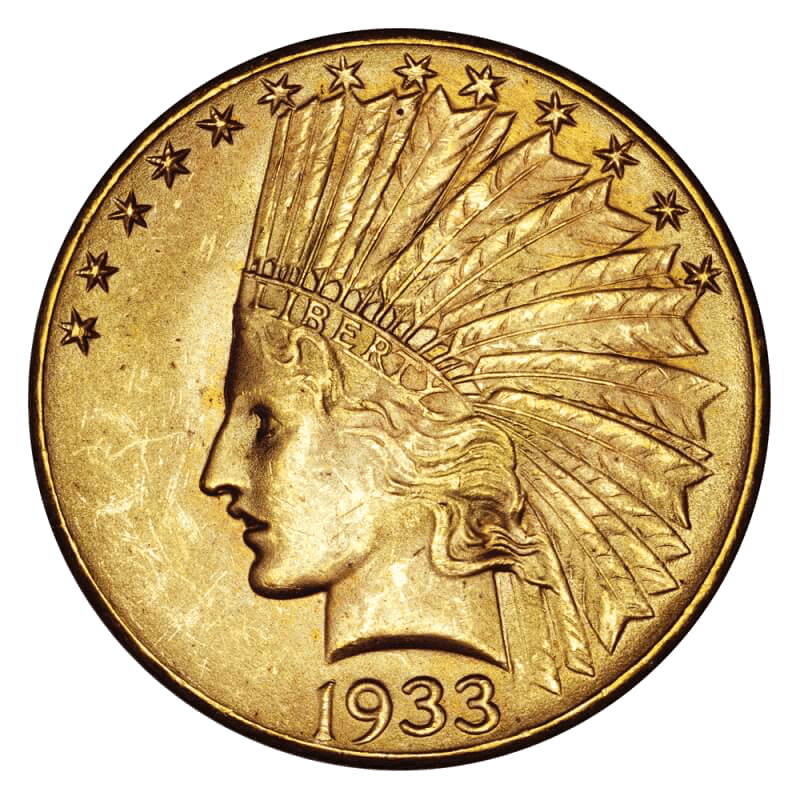 About the ANA Specimen
The ANA's 1933 Eagle received a grade of MS-64 by NGC. It features satiny luster, but has several small hits in prime focal areas. There are no visible hairlines and die scratches are minimal. There are hints of rose and green, especially within the headdress, but this should not be confused with toning – these colors are found within the alloy used to make the planchet. It does have relative weakness on the numeral "1," the eagle's breast feathers, and around the hair below the headband. There are several minute copper spots, and a couple of larger spots by the "OF" on the reverse. Some light strike/machine doubling is found on some of the reverse lettering, but it is minimal. It was donated before 1940 by F.C.C. Boyd and James Macallister, and is a part of the ANA's Moritz Wormser Collection. This specimen has been displayed in the Money Museum, but for the time being, it remains in the vault.
Behind the Design
Augustus Saint-Gaudens' rise to fame as one of the most significant numismatic artists in the United States was turbulent yet auspicious. He was the first professional "artist" to design circulating coinage for the country. Saint-Gaudens believed in numismatic design as a legitimate form of art, as he admired the high relief sculpture of the ancient Greeks. He started as a cameo carver and began to explore medallic sculpture in the 1870s. Saint-Gaudens may never have become a serious medallic artist if it were not for painter John LaFarge's encouragement. Saint-Gaudens was feeling nostalgic after returning to New York from a trip to Italy in 1875 and created casts of Pisanello's 15th century reliefs. LaFarge commented that these works were worthy of comparison with the great renaissance medalist. Saint-Gaudens gained more recognition in Paris in 1877 with some bas-relief portraits of his contemporaries. These works caught the attention of many contemporaries, and committees ready to employ great artists. Saint-Gaudens' friendship with Richard Watson Gilder was his first real step toward medallic greatness. In 1889 Gilder commissioned Saint-Gaudens for a commemorative medal to be designed in honor of the centennial of George Washington's inauguration. Saint-Gaudens did not make this job easy on his assistant Philip Martiny, who sculpted the models, with several creative "suggestions" for modifications. After an arduous process, the medal was finally released and was met with great critical acclaim. The accomplishment was publicized in Harper's Weekly by critic Charles DeKay, saying that it was reminiscent of ancient Greek coins and how American coinage appeared inferior by comparison. Gilder and sculptor Victor David Brenner also approved, hoping that it would translate to improved medallic and numismatic changes. Congress passed a bill in September 1890 regarding approval for design changes to coinage as long as a design had been in use for no less than twenty-five years. The Treasury Department held an open competition in 1891 for new coin designs. The three judges for this mission were Augustus Saint-Gaudens, Boston gem engraver Henry Mitchell and Chief Mint Engraver Charles E. Barber, but this coalition dissolved shortly after its formation. The committee couldn't agree on any of the 300+ redesign proposals they'd received. Philosophical differences in aesthetics between Saint-Gaudens and Barber were largely due to their upbringing in the arts. Barber gravitated towards the practical, useful, and often mundane tool and die tasks, whereas Saint-Gaudens was trained in the classical realm of sculpture, holding beauty as the highest ideal. The World's Columbian Exposition in Chicago in 1893 set the scene for an artistic showdown of epic proportions. Saint-Gaudens initially refused to make the fair's official award medal, but eventually agreed, if for nothing more than to prevent Barber from getting the gig. In January 1894, the US Senate heard that Saint-Gaudens' design featured a full nude male figure, symbolizing the strength and vigor of the young nation, but American society was not at all ready to accept this. He stated that the majority of these medals would be going to foreign exhibitors, and as such, would not be considered offensive. The Senate forced him to alter the design to fit the largely Puritanical tastes of 19th century American society. He again realized that if he refused, chances were the task would fall into Barber's hands. When Saint-Gaudens submitted a more "tasteful" design, it too was rejected with no real explanation from the Mint as to why. Shortly thereafter, the Mint announced that the reverse design was being replaced with one of Barber's. Saint-Gaudens responded with a rather angry letter to the editor of the New York Daily Tribune. The medal, with Saint-Gaudens' obverse and Barber's reverse, was finally released in April 1896. Ironically, this reverse design featured a completely bare-breasted female allegory which did not experience any of the controversy the Saint-Gaudens' design did. This led to his adamant refusal to create any more official medallic projects for about the next ten years. Charles Barber and associate Mint Engraver George T. Morgan were already at work on Theodore Roosevelt's second inaugural medal when Saint-Gaudens was invited by the president to a dinner at the White House in January 1905. Roosevelt was already a fan of Saint-Gaudens as evidenced by a letter to the sculptor in 1903 praising his works. Saint-Gaudens treasured this letter so much that he remarked how he wanted this passed down to future generations. They first met in 1901, and at this dinner Roosevelt asked Saint-Gaudens to create another "special" medal in addition to the one being created by Barber and Morgan, and that this one would be commissioned by the Citizens' Inaugural Committee (Roosevelt was less than thrilled with the Barber/Morgan design). Saint-Gaudens was reluctant to agree to this new task but again reconsidered when he saw the proposed design by Barber and Morgan. He also saw yet another chance to best this foe. They agreed on a fee of $5,000 for this assignment and informed Roosevelt that his protégé, Adolph Weinman, would be employed with the actual sculpting tasks. Saint-Gaudens agreed to pay Weinman $250 for his efforts. The medal was not ready for the inauguration on March 4, 1905 and was presented to Roosevelt a few months later. In his thank you letter to Saint-Gaudens, he remarked how happy he was to have a bit of ancient Greece "imported" to the 20th century. Roosevelt had by then decided that Saint-Gaudens was the right artist to realize his vision for a redesign of coinage. He even wrote in a letter to Treasury Secretary Shaw about the "atrocious hideousness" of U.S. coins at the time and his desire to have Saint-Gaudens beautify our money supply. Saint-Gaudens was assured by Roosevelt that he would use his full authority to help the artist overcome any differences of opinion with the Mint, particularly Barber. By November 1905, he had sketched preliminary designs for a new one cent, ten dollar gold, and twenty dollar gold pieces. Saint-Gaudens produced over seventy different ideas for new coin designs, including the same Ptolemaic-style eagle that had been rejected for his Columbian medal design, but used for Roosevelt's second inaugural medal. Ultimately, this standing eagle was portrayed on the Indian Head ten dollar gold piece beginning in 1907. The obverse of this coin featured the head of Liberty he had originally planned for a new one-cent piece, but underneath a Native American headdress, in accordance with Roosevelt's wishes. There was a modicum of controversy as people disputed the nationality of the model for the coin. Augustus Saint-Gaudens died from cancer on August 3, 1907 never having seen the Indian head $10 gold eagle design struck for coinage. He did get a look at the ultra-high relief double eagles of the same year (reluctantly struck on the Mint's medal press by none other than Charles Barber). It is amazing the precedent Saint-Gaudens set for high numismatic artistry in America. James B. Longacre's Flying Eagle obverse design clearly influenced Saint-Gaudens and was revamped for the twenty-dollar gold piece reverse starting in 1907. We can see Saint-Gaudens influence on his associates and students like John Flanagan, James Earle Fraser, Hermon MacNeil, Bela Lyon Pratt and A.A. Weinman. He ushered in what many experts call a renaissance of American money design. Most numismatists only appreciate the tangible works he created, yet he must also be remembered for his struggles with entrenched powers, and how this helped pave the way for personal freedom of expression for all American artists.