Written by Hampton Moore
American Silver Eagles are extremely popular around the world today. The Silver Eagle was first minted in 1986, the same year that Professional Coin Grading Services (PCGS) opened for business. The 1986 Silver Eagle in perfect MS-70 condition can easily sell for $1,350, because the first year is considered highly collectible. The Silver Eagle's obverse design is Adolph A. Weinman's "Walking Liberty," which was on the half dollar from 1916 to 1947. From 1986-2021, the reverse design was a heraldic eagle attributed to John Mercanti. The mint mark can be viewed underneath the left talent. From late 2021 to the present, the reverse design is a flying eagle holding a branch in its talons, designed by Emily S. Damstra. The mint mark is located between the tail feathers and the branch.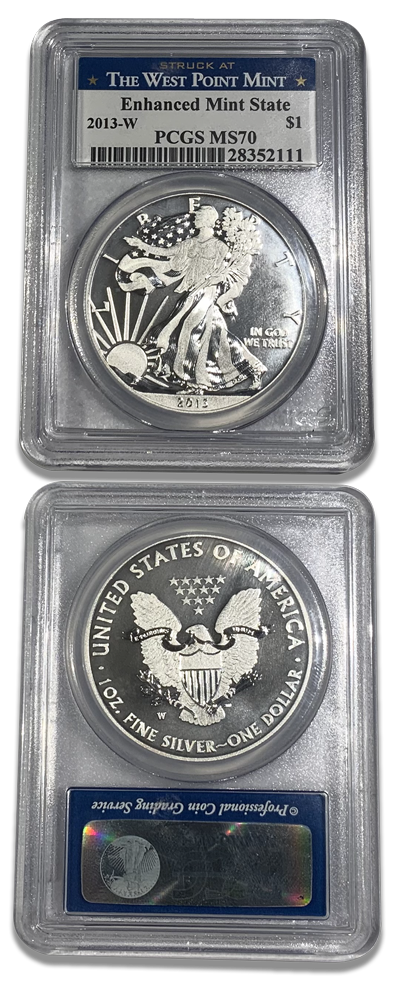 These coins are legal tender with a face value of $1.00 (I don't recommend spending them). The specifications of the Silver Eagle are: 1 ounce pure silver with a weight of 31.103 grams, .999 pure silver and .001 copper, with a diameter of 40.6mm. The mints for these coins are in Philadelphia, San Francisco, and West Point. Four types of finishes were used for this coin – regular, burnished, proof, and enhanced uncirculated.
The enhanced uncirculated Silver Eagle was only issued in 2013 and struck only at the West Point mint. A MS-70 example can sell for two hundred dollars ($200). Seven reverse proofs were made with some examples going for $2,300 (2019-S enhanced reverse proof). Burnished coins are similar in appearance to regular Silver Eagles, but with a burnished planchet. Proof coins have highly polished surfaces and are almost always found with deep cameo surfaces. The "key date" in this series is the 1995-W with a mintage of 30,125 coins and can sell for over $80,000. A 1999 Silver Eagle in MS-70 condition can sell for $16,000.
Silver Eagles dated 2023 are highly sought after. For uncertified coins, they can sell for $45.00 compared to other dates being $35.00. MS-70 coins can sell for around $100.00 because they are so notable. The mint did not strike as many of these as they normally would because of a shortage of silver. More silver is being used than mined. Most of the 2023 proofs were pre-sold before the mint even struck them. These 2023 Silver Eagles are almost as well-liked as the Silver Eagles from 1986.
American Silver Eagles were created so that the United States could have a coin to compete with other countries' bullion coins. An example is the Canadian Maple Leaf. The mint also makes gold, platinum, and palladium Eagles. These are made in fractional denominations because of their prices. Silver Eagles, though, are a good investment and a very interesting series to collect!
Sources:
Yeoman, R. S., et al. A Guide Book of United States Coins 2024. Whitman Publishing, LLC, 2023. Pgs. 377-381
PCGS CoinFacts App, Version 3.2.3. Copyright 2021 Collectors Universe, Inc.