2017 World's Fair of Money Events
Legacy Series


Visitors to the Denver World's Fair of Money are invited to attend the ANA's Legacy Reception to celebrate the contributions of Colorado father-son coin dealers, Ken and Tom Hallenbeck of Hallenbeck Coin Gallery. The event kicks off at 6 p.m. on Tuesday, Aug. 1 at the Colorado Convention Center, located at 700 14th St.
Seating is limited.
Ken and Tom have significantly impacted the Colorado numismatic landscape and coin collecting community through their vision and generosity.


The ticket price of $50 includes hors d'oeuvres, a cash bar and the Legacy Series interview.


Registration for this event is closed.
Awards Banquet and Silent Auction


The ANA awards banquet honors members and outstanding individuals for their dedication and work advancing the hobby of numismatics. Banquet attendees can bid on fabulous auction lots while enjoying the camaraderie of fellow collectors.

The banquet will take place Aug. 4 at 7p.m. at the Sheraton Denver Downtown Hotel in the Grand Ballroom.

Registration for this event is closed.

Those interested in donating items for the silent auction should contact Amber Bradish at (719) 482-9865 or abradish@money.org.

Shave Miles Fundraiser

Prominent numismatist Michael "Miles" Standish will have his head shaved to raise money for the ANA and the Standish Foundation for Child & Family Centered Healthcare, a nonprofit devoted to helping sick children. And special guest Rick Harrison from Pawn Stars will be doing the shaving!

The hair-raising act will take place at the World's Fair of Money on Thursday, August 3rd, at 2p.m. The public is invited to attend, and donations are greatly appreciated!


Golden Day at the ANA

Make plans now to join us in Colorado Springs on Sunday, Aug. 6 as we celebrate the 50th anniversary of the ANA's headquarters dedication with refreshments, souvenirs, demonstrations, and more. The event takes place after the Denver World's Fair of Money from 11a.m. to 3p.m.
Round-trip shuttles from the Sheraton (host hotel) depart at 9 a.m. (with departure from Colorado Springs at 2 p.m.) and 10 a.m. (with Colorado Springs departure at 3 p.m.). Cost for transportation is $30 per person; attendance at the celebration is free. The security room at the Colorado Convention Center will remain open until 10 a.m. on Monday, for those needing to secure valuables.

Attendees may register on site at the ANA's headquarters the day of the event.

Sundman Lecture Series & Luncheon
Wednesday, August 2 | Room 501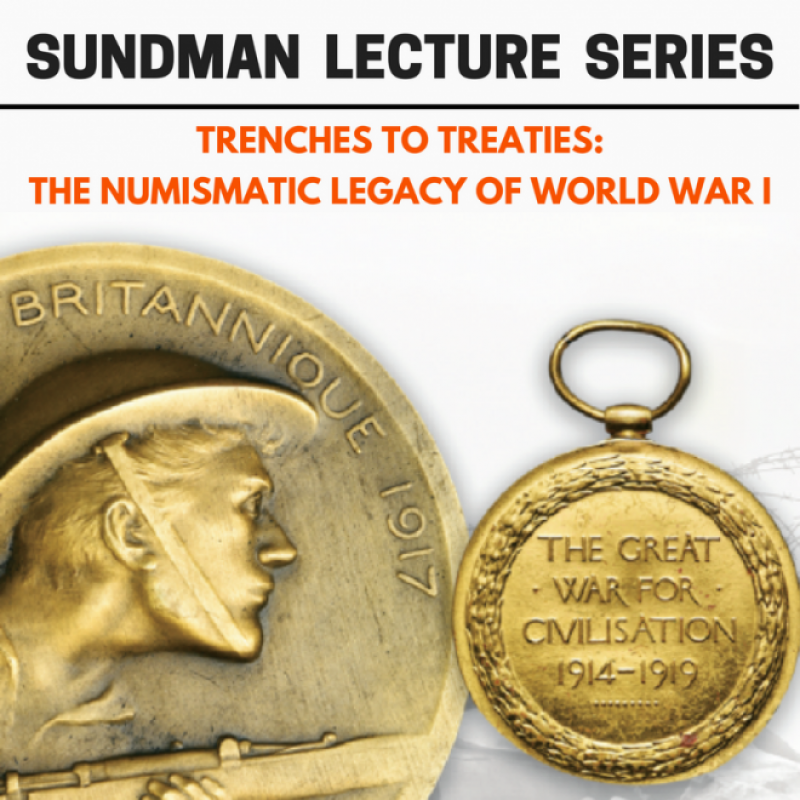 This year marks the 100th anniversary of United States involvement in "The War to End All Wars," World War I. With that in mind, the 2017 Sundman Luncheon celebrates "Trenches to Treaties: The Numismatic Legacy of World War I."
Guests who attend the luncheon, priced at $15 per person, enjoy the following presentations:

WWI Generated Many New Paper Money Issues – and The Counterfeiters Followed Right Along | 10:00am

Counterfeiting money has been a problem since the earliest times and WWI was no different. Joseph E. Boling, paper money and counterfeit expert, will discuss how wartime monetary disruptions created opportunities for counterfeiters across the globe. The talk will use examples of notes from the United Kingdom, Germany, the Ottoman Empire and their colonies to tell this fascinating story of numismatic expediency and deception.
Joseph E. Boling is a retired Army officer who is an expert on paper money counterfeits as well as Japanese coinage and currency and an instructor at the ANA's Summer Seminars for over 20 years.
The Pittman Silver Purchase Act of 1918 | 11:15am

Prior to World War I the United States had a huge surplus of silver dollars created by the Bland-Allison Act of 1878 and the Sherman Silver Purchase Act of 1890. With the end of government subsidies supporting an artificially high price for silver, silver production lapsed in the U.S. until the economic crisis of WWI. The need to support Great Britain's war effort resulted in the Pittman Silver Purchase Act of 1918 – which gave our Allies access to the 490 million silver dollars stored in United States Mint Vaults over the previous 50 years. Discover the story of American silver and how it helped to win World War I.
Roger W. Burdette is a historian, numismatist and noted author with many numismatic publications to his credit, including the landmark Renaissance of American Coinage series of books.
Luncheon | 12:15pm-1:45pm (room 504 / registration for this event is closed)

Numismatic Trench Art of World War I | 2:00pm

Trench Art is an art form created by and for military personnel that has existed for many centuries. Most takes the form of souvenirs from the battlefronts made from the materials readily available in wartime settings such as shells, bullets or coins. This talk focuses on the numismatic objects that were used to create trench art during WWI – the war that gave the art form its' name – by discussing the history and traditions of trench art generally and WWI numismatic trench art in particular.
Fred Schwan is an enthusiastic collector and military numismatic expert with over 40 years of experience. He is best known for his articles and presentations on trench art and his involvement with the collecting and promotion of Military Payment Certificates.
War To End All Wars: Americans' Participate in the Great War Through Its Medals | 3:15pm

This discussion will talk about American medals produced with World War I themes in three stages; 1. those produced before America's entry, most often to support fund raising efforts of charities working with war victims, 2. Those produced after America's entry, often focused on the brutality of the war and 3. Medals produced after the war, celebrating the victories and accomplishments of the troops and supporting charitable efforts to rebuild the devastation caused by the war. The work of famous sculptors will be covered along with that of less well-known artists.

David Goya is a pulmonologist and a serious collector of art medals.
Registration for this event is now closed.

Money Talks
Money Talks features free, informative, 30 to 45-minute presentations by some of the hobby's most noted authorities. (Colorado Convention Center / Room 501).
Dennis Tucker: Collecting Modern U.S. Mint Silver Medals for Fun and Profit – Thursday 8/3 @ 9am
The United States has created many beautiful silver medals in recent years. Some of them are underappreciated. Others have sold out within minutes of going on sale! The Mint has invested new energy into its modern silver medal programs. Explore them and learn how to build your own valuable collection.
Dennis Tucker is an award-winning numismatic researcher, a member of the U.S. Treasury Department's Citizens Coinage Advisory Committee, and author of American Gold and Silver: U.S. Mint Collector and Investor Coins and Medals, Bicentennial to Date. As publisher at Whitman Publishing he specializes in nonfiction topics such as banking and finance, the American presidency, military history, and numismatics.
David Finkelstein: The 1,758 1794 Silver Dollars: Recently Found Mint Documents Dated 1794 and 1795 Answer Key Questions – Thursday 8/3 @ 10am
Which silver deposit or deposits were used to strike the 1,758 1794 Silver Dollars in October, 1794? Which silver depositor or depositors received the 1794 Dollars? Recently discovered Mint documents answer these questions, and correct the previously published speculations made during the last 50 years.
David Finkelstein is a coin dealer and member of the Professional Numismatists Guild. For the last 20 years, he has researched the implementation methodologies and standards used by the Mint for creating coin dies dated 1793 – 1836. For the last 7 years, David has researched the workflow of the Mint from 1792 through 1797, the interactions between the executive branch, legislative branch, and the Director of the Mint to create the three major Mint Acts between 1792 and 1795, and the links between United States flags, the Great Seal of the United States, and the Heraldic Eagle coinage. David has published articles in The Numismatist, Penny Wise, Coin World, Numismatic News, and over 75 articles in the John Reich Collectors Society Journal and Newsletter.
Garrett Ziss: Baltimore's Washington Monument and Its Numismatic Secrets -- Thursday 8/3 @ 11am
This presentation is a story that spans 208 years. It chronicles the construction of Baltimore's Washington Monument and highlights its connection to a pioneer American numismatist. The story also recounts the recent discovery of coins and medals in the monuments' 1815 and 1915 time capsules and illustrates these numismatic items.
Garrett Ziss has been a numismatist for 6.5 years and collects early U.S. coins and obsolete paper money. He also enjoys researching numismatic topics and sharing his findings with other numismatists. Garrett has given presentations to both the John Reich Collectors Society and the Early American Coppers. He is also a proud member of the Wilmington Coin Club and the Currency Club of Chester County where he has presented multiple numismatic programs.

Bob Bair: CAC & Their "Green Beans" on PCGS and NGC Coin Holders -- Thursday 8/3 @ Noon
CAC (Certified Acceptance Corporation) has had a profound effect on numismatics. CAC offers "sight-unseen" buy offers at a strong wholesale level on PCGS and NGC coins it has endorsed as "solid for the grade." Purchasing CAC coins offers "assurance" to collectors and investors, reflected in the growing market for CAC coins.
Bob Bair has been involved in numismatics since 1956, first as a collector, then as a coin dealer starting in 1987. As a boy growing up in NW Wisconsin in the 1950s, he began collecting coins that he received from his newspaper route, and a lifelong passion was born. Bair earned master's degrees in U. S. History (1970) and educational administration (1994). He taught in Wisconsin from 1969 to 1997, and served as a school principal in Louisiana and Colorado until his retirement in 2010.
Doug Mudd: Medallic Remembrances of World War I -- Thursday8/3 @ 1pm
World War I was a major turning point in world history - European dominance in world affairs was loosened opening the way for a new world order for better and for worse. Medals were used by artists on both sides to record the politics, emotions and fortunes of war. This talk will present a numismatic overview of the Great War and its aftermath through medallic art.
Douglas Mudd is the Curator of the Edward C. Rochette Money Museum and former Collection Manager for the National Numismatic Collection in the Smithsonian Institution's National Museum of American History. He has an MA in American History and is the author of the Harper/Collins book, "All the Money in the World."
David Schmidt: Norse American Centennial Medals of 1925: An Update of Those "Thick" and "Thins" and More -- Thursday 8/3 @ 2pm
Learn about new findings in Norse-American Medals (In the past five years, more unique medals have been discovered, including copper trial and pattern pieces) and current buy/sell figures for the various grades of Thick and Thins. Handouts provide information on population reports by major third party grading services and recent Norse Gold sales. See displays of medals, so-called dollars and other trivia.
Dave Schmidt was introduced to Numismatics at age ten, became a member of the College City Coin Club in Northfield, Minnesota, becoming its President in 1964, while attending St. Olaf College. Virgil Foss and Rollie Finner were his mentors at the time. In 1972, Dave was an active member of the Tacoma and Lakewood Coin Clubs, in Washington, becoming president of the latter from 1973-1979. In 1994 Dave became President of the merged Tacoma-Lakewood Coin Club and "retired" as President after twenty-two years of service in 2016. He has presented several performances regarding "The Norse-American Medals of 1925" and updates of same as well as Money Talks on "The Cathedral (Monuments) Medals of Jacques Wiener" and a Presentation of "How to Have a Successful Coin Club" with the help of several members of the Tacoma-Lakewood Coin Club. He has been the chair of coin shows in Tacoma, Washington & Portland, Oregon, on a regular basis since 1973, including several Pre-shows and one in Puerto Rico. Dave attends 40+ coin shows a year and may be found as the proprietor of "Coins Unlimited", his avocational endeavor. In "real" life, Dave serves as the Executive Director of Renewal Counseling and Educational Services and as an Angerologist in Tacoma, WA.
Q. David Bowers, Steve Hayden, Bill Hyder, Neil Musante, & David Schenkman, with Susan Trask (Moderator): Ask the Experts! A Symposium on the Allure of Tokens and Medals -- Thursday 8/3 @ 3pm
Bring every question you have about Tokens, Medals and Exonumia to our expert panel. From grading, the market, rarities, to history and more answered by Q. David Bowers, Bill Hyder, Steve Hayden, Neil Musante, and David Schenkman and, moderated by Susan Trask.
Q. David Bowers is the author of over 50 of numismatic books and a contributor to hundreds more. He is a regular contributor to Coin World Magazine and the Numismatist. Dave is a Hall of Fame member of the ANA, ANS and Civil War Token Society.
Steve Hayden is a well-known dealer, cataloguer and auctioneer of Tokens and Medals. Recognized as an expert throughout the profession, Steve was a major contributor to the 3rd Edition of Civil War Store Cards and is a co-editor of the soon to be released 6th Edition of Civil War Patriotic Tokens.
Bill Hyder began collecting coins fifty-five years ago. He celebrates the fiftieth anniversary of membership in the ANA this year. His interests are varied across U.S. and foreign coins including ancients and Celtic coins, but his specialty is exonumia. Bill has co-authored two books, one on Hitler medals with RW Colbert and the other on Charbneau so-called dollars with Jeff Shevlin. A second book with Jeff Shevlin is to be released soon. In addition to authoring and co-authoring numerous articles, he is a past president of the Token and Medal Society and shares editing and publishing duties for the TAMS Journal with Fred Holabird.
Neil Musante is a longtime collector and sometime dealer of tokens, medals and rare books. He is the producer of The MCA Advisory, the journal of the Medal Collectors of America. He has written two numismatic books, The Medallic Work of John Adams Bolen and a two volume set on the medals of George Washington titled Medallic Washington. He divides his time between Boston and Cape Cod.
David Schenkman has been an ANA member since 1962. He is the author of nine books and hundreds of articles, and writes a monthly column for The Numismatist. He is a past president of the Token and Medal Society and the Civil War Token Society, and a past editor of both society's publications.
Tony Swicer: Obsolete Currency- 1790 to 1860's -- Thursday 8/3 @ 4pm
Obsolete Currency, 1782-1866, covers the history of US currency in this time period, including the printers, the notes, their values, how to collect, and reference materials. You will see notes from this time period and reference material. You will be given a four page outline for this presentation.
Tony Swicer is a Board member of FUN and was president from 2011-2015. He has been president of the Palm Beach Coin Club for the past 33 years. He started collecting Kentucky National Bank Notes in 2003 and has the second largest collection ever assembled. He rated, priced, and edited the section on Kentucky obsolete currency in the book, Whitman Encyclopedia of Obsolete Paper Money, Volume 7. He is a life member of the ANA with many awards, the most recent being the ANA Presidential Award and the ANA Medal of Merit.

Robert Leonard: Lesher Referendum Dollars – The Denver Connection -- Friday 8/4 @ 9am
Joseph Lesher defied the government by issuing his own silver coins in 1900 and 1901. But though they claim to have been made in Victor, Colorado in fact they were all minted in Denver. Lead author of a new book on Lesher Dollars, Bob will reveal many connections to this city.
Bob Leonard joined the ANA in 1961, has three Heath Literary Awards, and was General Chairman of the 2011 World's Fair of Money. He is the lead author of a new book on Lesher Dollars, Forgotten Colorado Silver: Joseph Lesher's Defiant Coins, published in July by The History Press. Among other research, Bob examined the pertinent Secret Service records in the National Archives and Farran Zerbe's papers in the archives of the American Numismatic Society, in addition to verifying and expanding genealogical research on the issuers of Lesher Dollars.
Steve Roach: 10 (or so) Trends That Are Shaping Coin Collecting Today -- Friday 8/4 @ 10am
In this interactive and entertaining presentation, Coin World's editor-at-large Steve Roach will lead a lively discussion about some of the biggest trends in coin collecting right now and how the stories making news in rare coins today might impact the way we collect coins tomorrow.
Steve Roach is a lifelong coin collector and editor-at-large of Coin World, the world's largest coin hobby publication.

David Smock: Cherrypicking Numismatic Varieties for Fun and Profit -- Friday 8/4 @ 11am
Cherrypicking die varieties can be both fun and profitable. Participants will want to start searching their pocket change once they learn what cherrypicking is and how it's done. This presentation will focus on readily "cherrypickable" and popular die varieties of modern coins and will briefly cover some rarer varieties.
David Smock is a member of the ANA and CONECA and serves as a regional representative for the ANA. He is Arkansas' CONECA representative and currently serves on its board of governors.
Richard Nachbar: Gold & Silver: Their Past, Present & Future -- Friday 8/4 @ Noon

Please prepare for a high volume of specialized information to come to you rapidly! Richard will delve
into:
The Who, How and Why of the current precious metals Price Management Scheme;
The authorization behind that price management;
Why and when that scheme must come to an abrupt end.
Richard Nachbar began his career as a full-time coin dealer in 1973 right here in Colorado. He manned his first table at an ANA convention in Boston that same year and has attended every ANA summer convention now for 45 consecutive years, including Denver in 1996 and 2006. Richard is well-known as a nationally competitive buyer of rare coin collections and estates. He is also known as a very serious student of the precious metals market.
Scott Travers & Maurice Rosen: The New Frontier in Collecting High Grade Gold Bullion Coins -- Friday 8/4 @ 1pm
Scott A. Travers and Maurice Rosen will reveal the most valuable secret about collecting U.S. bullion gold coins for fun and profit: how to buy these coins for close to their melt values. Travers and Rosen will also analyze mintage figures and discuss the future of vintage gold coins that also can be purchased near their melt values.
Scott A. Travers is author of The Coin Collector's Survival Manual and many other award-winning books. He is a former ANA vice president.
Maurice Rosen is editor/publisher of The Rosen Numismatic Advisory, which has received twenty-nine awards.
Joel Orosz, Pete Smith, & Len Augsburger: 1792: Birth of a Nation's Coinage -- Friday 8/4 @ 2pm
The coins of 1792—small cents, Birch cent, half disme and disme, and Eagle-on-Globe pattern—are a bridge between colonial and federal coinage. We provide a comprehensive census, identify which are patterns, which are business strikes, and which Presidents did—and did not—play a key role in their creation.

JOEL J. OROSZ, PETE SMITH, and LEN AUGSBURGER are co-authors of 1792: Birth of a Nation's Coinage, published in early 2017 by the Ivy Press, a subsidiary of Heritage Auctions. Orosz and Augsburger are also the authors of The Secret History of the First U.S. Mint, published by Whitman, and with Roger Burdette, they wrote Truth Seeker, the biography of Eric P. Newman. Both of these volumes were named "Book of the Year" by the Numismatic Literary Guild. Pete Smith is also the author of The Story of the Starred Reverse Cent and of American Numismatic Biographies.
Walter Ostromecki: The Numismatic Hobby Contributions of Trailblazing Treasury Women - 1795 to Date -- Friday 8/4 @ 3pm
Come and learn about the little known numismatic contributions Treasury Women have provided the hobby from since the first two female employees were hired in 1795. Be amazed at the hands-on role many have played in such areas as gold coinage; currency cutters; counterfeit detection; the 1909-S VDB Lincoln Cent; the 1916-D dime; US Mint Director and US Treasurer; coinage design and engraving; and so much more.
Walt Ostromecki, is ANA Immediate Past President and a current Governor. He is a prolific hobby writer, speaker and youth activities leader-educator-mentor. Many of his writings and programs share the numismatic achievements of women. He won the ANA's 2011 second place Heath Literary award for his article entitled, "Some Women Behind our Money."

Lawrence Korchnak: The Currency of War -- Friday 8/4 @ 4pm
Siege currency is rare, historic and has a special place in numismatics. This presentation traces the history of siege currency and addresses the unique circumstances surrounding their issue – from pasting prayer book pages together to meticulously writing notes by hand; from printing notes on pieces of cloth cut from old shirts to using an "engraving plate" carved from a croquet mallet.
Larry is an avid numismatist with varied collecting interests. His main area of specialization is siege money. He also collects Roman denarii, Pennsylvania depression scrip, and Hungarian denars by date. He is a life member of the ANA (LM-1928), Numismatics International (NI LM-74), Pennsylvania Association of Numismatists (PAN LM 25), and the Western Pennsylvania Numismatic Society (WPNS LM). He is also a regular member of Central States Numismatic Society (CSNS).
Larry has been a collector since childhood and enjoys sharing his passion with others by speaking at local, regional, and national conventions. He has earned awards for exhibiting at the ANA, PAN and NYIC. He has written "An Introduction to Siege Money," "Dutch Sieges of the 16th and 17th Century," "The Shippingport Ferry Token," "The Beaver Falls Cutlery Company Counterstamp," and several Money Talks for the ANA. He was awarded the first ANA Literary Award for Paper Money Studies for "Ellwood City Depression Scrip." Larry was co-chair for the 1989 ANA Convention in Pittsburgh as well as a volunteer at the 2004 and 2011 Pittsburgh ANA Conventions. He is also a regular contributor to the Standard Catalogue of World Coins. Larry is currently working on a comprehensive English catalogue on the subject of siege money.