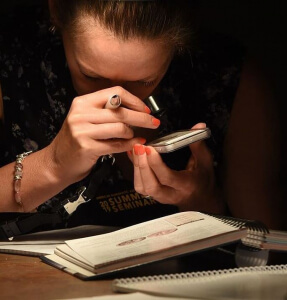 Counterfeit Detection of U.S. Coins with Emphasis on Recent Chinese-Made Fakes
This class will feature some of the most deceptive Chinese-made counterfeits of United States colonials, coins, tokens, bullion and bars that are currently plaguing the marketplace. The latest wave of counterfeits that are deceptive to experienced collectors and dealers. Hundreds of recently made examples will be available to examine along with the ANA's Counterfeit Detection set of older and highly deceptive fakes. This seminar will teach counterfeit detection of Key Date and Mintmarked coins, US gold coins, and the latest wave of deceptive Chinese-made counterfeits. There will be both digital presentation and extensive hands-on coin examination.
INSTRUCTOR: Brian Silliman, Counterfeit Detection Specialist and Dealer, Law Enforcement Consultant, Former NGC grader, conservator and ANA Numismatist.
TIME: February 28 - March 1, 2023; 9am-5pm
COST: $250 ANA Members / $350 Non-Members
TO REGISTER, please call Sheila Fortenberry at (719) 482-9848. Registration deadline is February 20.
DISCLAIMER
The ANA does not sell or otherwise share its membership list with any third party. Ignore emails offering to sell you our convention attendee list. Also ignore emails from third parties offering to book your hotel. These are scams.