The Howland Wood Memorial Award for Best in Show Exhibit was first presented in 1952. It is named for one of the ANA's longtime and dedicated numismatists. During Howland Wood's lifetime he served the ANA as its general secretary, a member of the board of governors, and both editor of The Numismatist and curator of the collections. The Howland Wood award is the most prestigious award given to exhibitors by the ANA.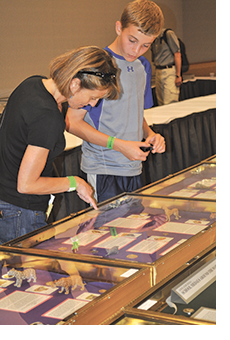 Interested in exhibiting?
The Collector Exhibits at ANA Conventions is one of the best attended and most interesting parts of the show. There are educational displays on every area of numismatics from ancient coins and artifacts, tokens and medals, world coins, to modern United States coins and paper money. The individual creativity is rivaled only by the quality and variety of the items on display. Each display invites the viewer to Discover and Explore the World of Money.
Members are invited to share their knowledge, research, creativity and collections with other members and the general public at ANA's annual conventions by preparing and displaying a numismatic exhibit.



Learn More