Donald E. Stephens Convention Center Rosemont (Chicago), IL
August 6-10

, 2024 – View $MILLIONS$ in rare coins and numismatic treasures. Buy, sell and trade with hundreds of coin dealers, attend lectures and presentations from noted numismatists, and find out what your old coins may be worth!
Show Hours
Tuesday — 1-6 p.m.
Wednesday – Friday 10 a.m. to 6 p.m.
Saturday — 10 a.m. to 4 p.m. (Admission is FREE for everyone on Saturday!)
*Last admission 30 minutes prior to closing.
Admission Information
Admission is $10 daily, $25 for weekly pass. Free for ANA members & children under 12. Active & Retired Military (plus up to 3 guests) receive complimentary admission.
Admission is free for everyone on Saturday, August 10.
Please note: Valid photo ID required for admission to the show.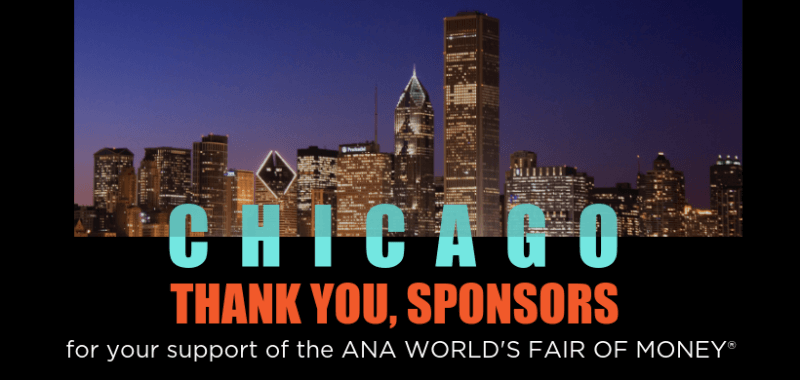 Disclaimer
Collectors and dealers are often contacted by unauthorized "service providers" offering to sell or reserve hotel rooms for convention attendees. Please know that the ANA does not work with third-party vendors. Ignore unsolicited attempts to book you a hotel room; these are scams. Other scams offer to sell you a list of convention attendees, offer expo services, or pitch online directories. The ANA never sells or shares the names of its members, convention attendees or exhibitors with any third party. Don't engage with them.
Show Photography and Videography Policy
All programs and events sponsored by the American Numismatic Association (ANA) at the World's Fair of Money are the exclusive property of the Association. No one is permitted to record or reproduce such events, orally or visually, by digital recording, videotape recording, audio cassette recording, or by any other means for commercial purposes without the express consent of the ANA. No exhibit, performance or event presented at a World's Fair of Money shall be photographed, videotaped, broadcast or recorded for commercial use or sale without the express consent of the ANA. This rule does not prohibit videotaping or other visual or oral recordings by an exhibitor at an ANA show made entirely within the booth space leased by that exhibitor.
Private, non-commercial photography and videography for personal use by visitors, exhibitors and vendors/dealers will be permitted in some areas of the convention hall and meeting rooms with the permission of those being photographed or videoed and/or permission of the dealer or exhibitor whose items are the subjects of the photo or video.